THE SCIENCE OF RELIGION
THE SCIENCE OF RELIGION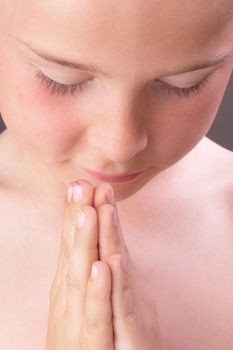 Caveat:
The purpose of this article is not to discuss any specific religion but to discuss relevance of various world religions in the context of science and therefore specific details about various religious beliefs relating to the existence, nature, and worship of any deity; and the values & practices advocated by any prophet or sacred text will not be discussed. Also, no attempt is made to show superiority or inferiority of any religion with respect to other religions. Instead, an attempt is made to discuss all religions together vis-à-vis science. I offer unconditional apology to anybody hurt or offended by this article. I am willing to post any criticism of this article below this article itself provided the browser logs in my website.
_
Prologue:
When I wrote an article on my wall in Facebook about "The Coincidence", my intention was to educate masses about the most fascinating aspect of human civilization. Little did I realize that many people who read it believed that whatever happened in my life was not coincidence but in fact I am a messenger of God. Again, I want to emphasize the point that I am not a messenger of God. I am an ordinary human being with all the weaknesses and fallibilities of a human being. I get angry even on trivial matter. I can hurdle abuses if sufficiently provoked. I may flirt with a woman if she makes a pass at me. Many times I have not been sober and kind when the circumstances demanded. So there is an overwhelming evidence to suggest that I am not a messenger of God. Nonetheless, there is little point in arguing with people whose rationality is compromised by faith and emotion. So I decided to go into the details of religions and religiosity of humans.
_
Why is there a religion in the first place?
The humans cannot advance without answering some basic questions like, Who Am I? Why am I here? What is the purpose of existence?  Why do I suffer?  Why does evil exist?  What happens to me after my death?  Religion provides compelling answers to basic questions intrinsic to the human condition through the relationship to the supernatural. Religion is said to help to satisfy the human need for spiritual fulfillment. The spiritual fulfillment is the need to feel comfortable with things that are beyond human understanding. Thus the need to believe in a God or Gods arises from the inability to understand the origin and purpose of life. When things went well it was because the gods were well pleased. When things went badly it was because the gods were angry. People began to offer prayers and supplications to the gods to appease them and enlist their help. Those who claimed to understand the Gods, or who could predict happenings such as eclipses, became the priests to the Gods. It was seen that human emotion could be swayed by sorrow, remorse and pleas for forgiveness. So it was only natural for the concept of repentance to become part of the rites for appeasing the Gods. Those who controlled religion realized that it was a great source of power. It offered reserves of strength when cultures clashed. By the time social complexity reached the point which we might describe as civilization, religion was well established and accepted by almost everyone. Religion is almost always a belief in some form of supernatural happenings or causes. It is always associated with some sort of discipline, be it physical, mental or psychological. Such disciplines often manifest themselves as religious ritual or habitual behavior. Religion underpins the emotions and logic of almost everyone. Even in today's modern & scientific world, the ordinary people have been so exposed to a long tradition of religious concepts that almost no-one could be devoid of its effects. When people confess their sins, they feel better about themselves. When people are devout and follow the discipline rigorously, they often feel that they are superior to those who are less rigorous. They have generated a self-excusal for condemning and despising others. So religion has traditionally altered the behavior of humans and therefore the real nature of religion is that it forms individuals into groups, who share common superstitions, common ideals, common fears and common means of achieving a sense of well-being and those who are seen to have a disregard, or even disrespect, for these values are seen as a threat to the group and consequently persecuted.
_
God is traditionally described as a being that possesses at least three necessary properties: omniscience (all-knowing), omnipotence (all-powerful), and omnipresence (present every where). In other words, God knows everything, has the power to do anything, and is present where He wishes. Many other properties (e.g., omnibenevolence) have been associated properties of a God. A deity is a supernatural immortal being, who may be thought of as holy, divine, or sacred, held in high regard, and respected by believers, often religiously referred to as a God. Deities are depicted in a variety of forms, but are also frequently expressed as having a human form or an idol form but some religions consider it blasphemous to imagine or depict the deity as having any concrete form.
_
The word Religion is derived from Latin religionem (nom. religio) meaning respect for what is sacred and reverence for the Gods. Dictionary.com says: "A religion is a set of beliefs concerning the cause, nature, and purpose of the universe, especially when considered as the creation of a supernatural agency or agencies, usually involving devotional and ritual observances, and often containing a moral code governing the conduct of human affairs." In other words, a religion is a group of people who come together to study and practice based on its understanding of what God wants us to do. Religion also means the voluntary subjection of oneself to God. However, some religions do exist without God (atheist religion). Therefore, the expanded definition of religion says: "Religion is a personal or institutionalized system grounded in the set of beliefs concerning the cause, nature, and purpose of life and the universe as the creation of a supernatural power; or revelations to a human being whom people regard as holy, sacred, spiritual, or divine". The religion includes the practices and institutions associated with such beliefs. These beliefs are generally shared by a community, and they express the communal culture & values through myth, doctrine, and ritual. Worship is probably the most basic element of religion, but moral conduct, right belief, and participation in religious institutions also constitute elements of the religious life. A priest is one authorized to perform the sacred rites of a religion. From the earliest known evidence of human religion by Homo Sapiens around 100,000 years ago to the present day, religion continues to be a very influential aspect of human lives. The earliest records of organized religion date from 4000 years ago, concurrent with the earliest extant examples of writing. It is not known whether organized religion was in practice before this time, because no evidence is available.
World population
6.8 billion
% of world population
Christianity
1.9 billion – 2.1 billion
29% – 32%
Islam
1.3 billion – 1.57 billion
19% – 21%
Buddhism
500 million – 1.5 billion
7% – 21%
Hinduism
950 million – 1 billion
14% – 15%
Total
4.65 billion – 6.17 billion
68.38% – 90.73%
_
In religion, a prophet (messenger of God) is an individual who is claimed to have been contacted by the supernatural or the divine, and serves as an intermediary with humanity, delivering this newfound knowledge from the supernatural entity to other people. All most all religions claim to have prophets who promote changes in the society through their messages and actions. It is assumed that when the world becomes full of sins and the morality of mankind is endangered, then the God manifests himself in different forms to rescue and save the world. The entire religious ethos is built around life style of its prophet/originator. Christians emulate the life style of Jesus Christ and Muslims emulate the life style of Prophet Muhammad and Hindus emulate the life style of lord Ram & lord Krishna.
_
Religious texts, also known as scripture or holy books, are the texts which various religious traditions consider to be sacred. Many religions view their sacred texts as the "Word of God", often contending that the texts are inspired by God and as such not open to alteration. Interestingly, interpretation of various phrases in various religious texts varies from one religious scholar to another. The sacred is a mysterious manifestation of power and presence that is experienced as both primordial and transformative, inspiring awe and rapt attention. Sacredness is usually an experience that represents a break or discontinuity from the ordinary, forcing a re-establishment or recalibration of perspective on the part of the experiencer, but it may also be something seemingly ordinary, repeated exposure to which gradually produces a perception of mysteriously cumulative significance out of proportion to the significance originally invested in it.
_
Generally all major religions bear following characteristics:
1) Belief in supernatural beings (Gods).
_
2) A distinction between sacred and profane objects.
_
3) Ritual acts focused on sacred objects.
_
4) A moral code believed to be sanctioned by the gods.
_
5) Characteristically religious feelings (awe, sense of mystery, sense of guilt, adoration), which tend to be aroused in the presence of sacred objects and during the practice of ritual, and which are connected in idea with the Gods.
_
6) Prayer and other forms of communication with Gods. Most major religions involve prayer in one way or another and prayer is a form of religious practice that seeks to activate a volitional connection to a God through deliberate practice. Prayer may take the form of a hymn, incantation, formal creedal statement, or a spontaneous utterance in the praying person.
_
7) A world view or a general picture of the world as a whole and the place of the individual therein. This picture contains some specification of an over-all purpose or point of the world and an indication of how the individual fits into it.
_
8) A more or less total organization of one's life based on the world view.
_
9) A social group bound together by the above.
_
Sources of authority of a religion include:
1)  Sacred Texts provide authority to believers who regard the text as authoritative, divinely dictated, divinely inspired, and/or inerrant. Examples include the Quran, the Vedas, the Kitáb-i-Aqdas and the Bible.
_
2)  Prophets provide authority to believers who regard the prophet as having either spectacular personal insight, or direct personal communication with the Divine. Examples include Jesus, Buddha, Moses, Bahá'u'lláh, and Muhammad.
_
3)  Tradition provides authority to believers who regard the customs of their ancestors to be particularly important and a source of Divine Truth; examples include Shamanism and some aspects of Shintoism.
_
4)  Personal Experience provides authority to believers who believe they have had personal contact with Deity or Deities, or some other event of particular religious significance to them.
_
Atheism & agnosticism:
Atheism is the rejection of belief in the existence of God (deity). Atheism is contrasted with theism, which in its most general form is the belief in the existence of God (deity). Agnosticism means belief in the unknowability of the existence of God. Irreligion describes an absence of faith in any religion; antireligion describes an active opposition or aversion toward religions in general. Today, about 2.3% of the world's population describes itself as atheist, while a further 11.9% is described as nonreligious.
_
WORLD RELIGIONS
_
Evolution of Religions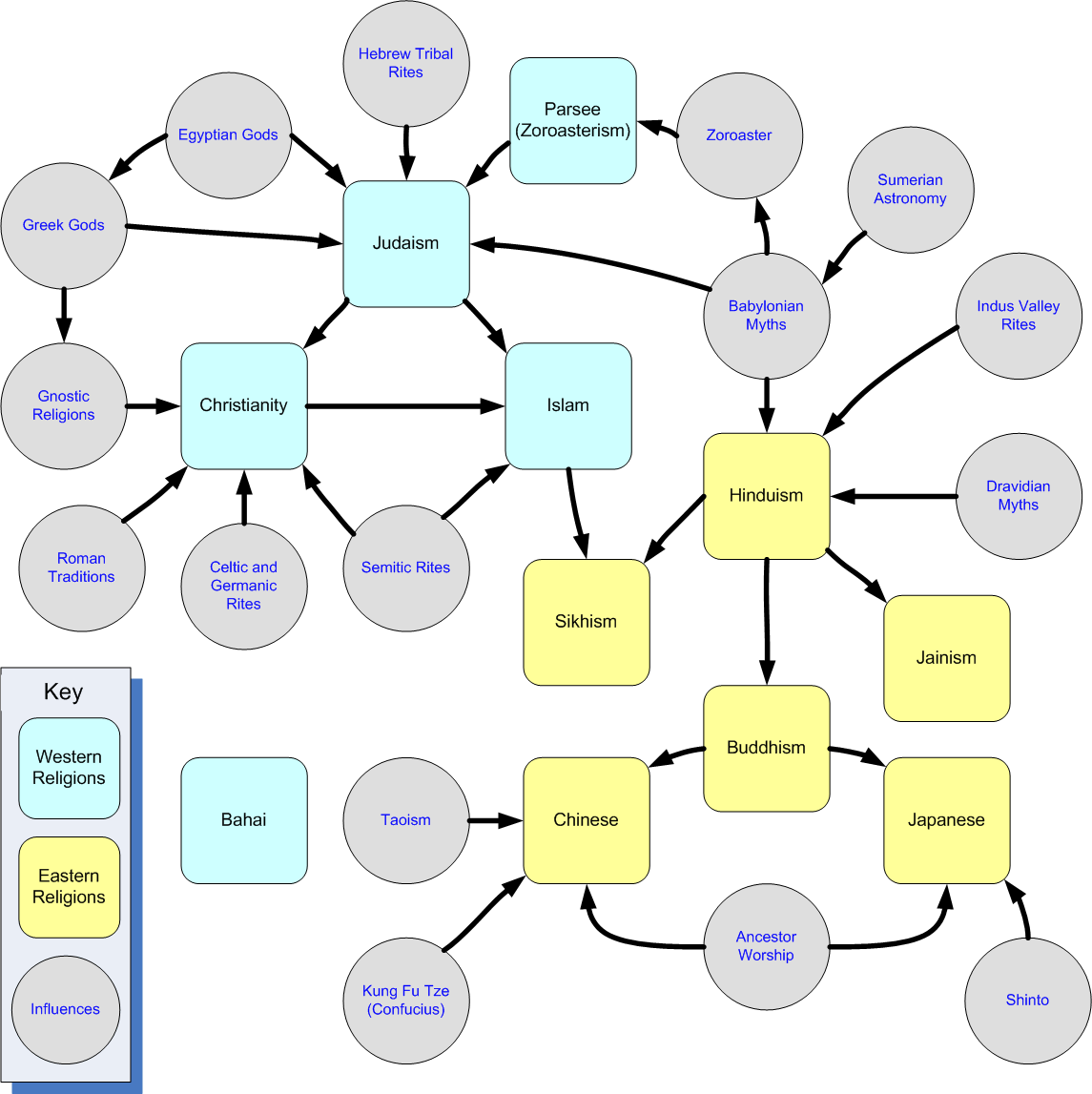 _
Religions can be classified as linear or cyclic religions; theist (mono or poly) religions or atheist religions; and Abrahamic or non-Abrahamic religions.
_
Linear religions have a beginning, an end, one life, and (usually) some kind of judgement day at the end. Christianity, Islam, Judaism, and Parsees are linear. Cyclic religions have the idea of birth, death and rebirth, with reincarnation a major theme. Hinduism, Buddhism, Jainism are cyclic.
_
Monotheism is the belief in the existence of one God, distinct & separate from Nature as we understand it. Polytheism is the belief in more than one God. Monotheism is characteristic of the Abrahamic religions (Judaism, Christianity, Islam and Baha'i Faith), but is also present in Neoplatonism and in Sikhism. Polytheism exists in traditions of Hinduism, Shintoism, Chinese folk religion etc. There are Atheistic religions which have no creator God as such (although there may be spirits and other exotic entities). Atheist religions include Buddhism (the Buddha is a human who has reached enlightenment), Jainism (with its Tirthankar, or teachers), Confucianism and Taoism (the last two are more philosophies than deity-driven religions).
_
Religions can also be classified into Abrahamic religions and non-Abrahamic religions.
Abrahamic religions are monotheistic religions descended from the Jewish patriarch Abraham which includes
1)  Judaism is the oldest Abrahamic religion, originating in the people of ancient Israel and Judea. Judaism is based primarily on the Torah; a text which Jews believe was handed down to the people of Israel through the prophet Moses in 1,400 BC.
_
2)  Christianity is based on the life and teachings of Jesus of Nazareth (1st century) as presented in the New Testament. The Christian faith is essentially faith in Jesus as the Christ, the Son of God, and as Savior and Lord. Christianity started out as a breakaway sect of Judaism nearly 2000 years ago.
_
3)  Islam refers to the religion taught by the Islamic prophet Muhammad, a major political and religious figure of the 7th century AD.
_
4)  The Bahá'í Faith was founded in the 19th century in Iran and since then has spread worldwide. The Bahá'í Faith arose from Islam based on the teachings of Baha'u'llah and is now a distinct worldwide faith. The faith's followers believe that God has sent nine great prophets to mankind through whom the Holy Spirit has revealed the "Word of God." This has given rise to the major world religions.
_
Non-Abrahamic religions includes
1)  The origins of Hinduism can be traced to the Indus Valley civilization sometime between 4000 and 2500 BC. It is believed by many to be a polytheistic religion. Hinduism was founded in the Indian subcontinent and share in common includes karma, caste, reincarnation, mantras, yantras, and dar?ana. Hinduism is not a monolithic religion in the Romanic sense but a religious category containing dozens of separate philosophies amalgamated as San?tana Dharma. Hindus follow a strict caste system which divides community between upper caste and lower caste based on birth in a particular family.
_
2)  Buddhism developed out of the teachings of Siddhartha Gautama who, in 535 BC, reached enlightenment and assumed the title Buddha. He promoted 'The Middle Way' as the path to enlightenment rather than the extremes of mortification of the flesh or hedonism. Buddhism being non-theistic religion makes no claim as to the existence or non-existence of God.
_
3)  Jainism, taught primarily by Parsva (9th century BC) and Mahavira (6th century BC), is an ancient Indian religion that prescribes a path of non-violence for all forms of living beings in this world. Jainism being atheistic religion does not believe in a God.
_
4)  Sikhism is a monotheistic religion founded in the 15'th century Punjab in India on the teachings of Guru Nanak and ten successive Sikh Gurus.
_
5)  Zoroastrianism was founded by Zarathushtra (Zoroaster) in Persia in the 6th century BC which followed an aboriginal polytheistic religion at the time. He preached what may have been the first monotheism with a single supreme god, Ahura Mazda. Zoroastrians in India are known as Parsees.
_
6)  Shinto is an ancient Japanese religion, closely tied to nature, which recognizes the existence of various "Kami", nature deities.
_
7)  Folk religion is a term applied loosely and vaguely to less-organized local practices includes Chinese folk religion, African traditional religion, traditional Japanese & Korean religion, Native American religion etc.
_
8)  Miscellaneous new religions of the world.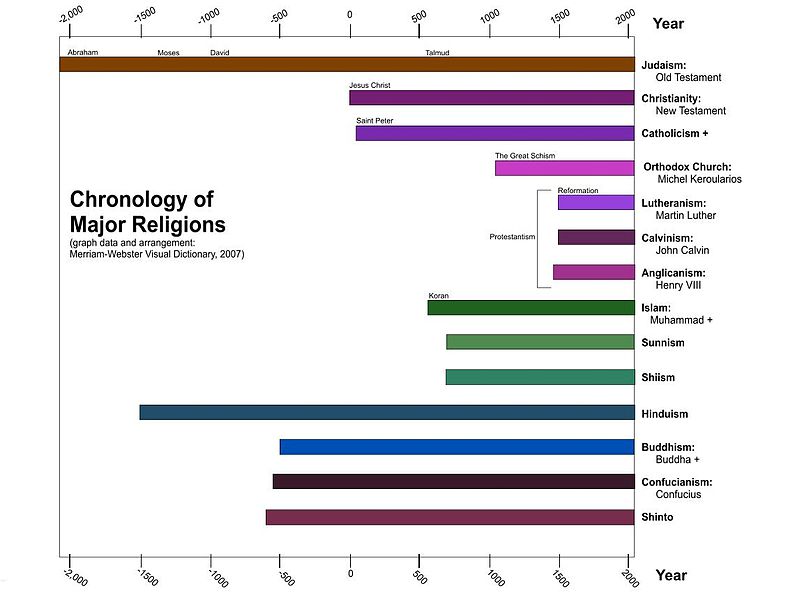 _
Basic information on various religions:
Religion
Date Founded
Sacred Texts
Membership
% of World
Christianity
30 AD
The Bible
2,039 million
32% (dropping)
Islam
622 AD
Holy Quran & Hadith
1,570 million
21% (growing)
Hinduism
1500 BC with truly ancient roots
Bhagavad-Gita, Upanishads, & Rig Veda
950 million
13% (stable)
No religion
(agnostic, freethinkers, secularists, humanists)
–
None
775 million
12% (dropping)
Chinese folk religion
270 BC
None
390 million
6%
Buddhism
523 BC
The Tripitaka (consisting of the Vinaya, the Sutras, and the Abhidharma)
350 – 1,600 million
6 to 21% (stable?)
Tribal Religions, Shamanism, Animism
Prehistory
Oral tradition
232 million
4%
Atheists
No date
None
150 million
2%
New religions.
Various
Various
103 million
2%
Sikhism
1500 AD
Guru Granth Sahib
23.8 million
<1%
Judaism
Note 1
Torah, Tanach, & Talmud
14.5 million
<1%
Spiritism
12.6 million
<1%
Bahá'í Faith
1863 AD
Alkitab Alaqdas
7.4 million
<1%
Confucianism
520 BC
Lun Yu
6.3 million
<1%
Jainism
570 BC
Siddhanta, Pakrit
4.3 million
<1%
Zoroastrianism
600 to 6000 BC
Avesta
2.7 million
<1%
Shinto
500 AD
Kojiki, Nohon Shoki
2.7 million
<1%
TaoismA segment of Chinese folk religion
550 BC
Tao-te-Ching
2.7 million
<1%
Other
Various
Various
1.1 million
<1%
Wicca Note 2
800 BC, 1940 AD
None
0.5 million?
<1%
Note 1: There is no consensus on the data of founding of Judaism. Some claim that Adam and Eve were the first Jews, and lived circa 4000 BC; others suggest that they and all biblical persons prior to King David are mythical; they never existed. Some would place the date at the time of Abraham, circa 1900 BC. Some date it to the Exodus from Egypt circa 1490 BC; others say that no Exodus happened, and the ancient Hebrew were originally a group that gradually separated from the main body of Canaanites and eventually developed a different culture.
Note 2: Some Wiccans believe that their faith can be traced back to the origins of the Celtic people; other suggest it is a recently created religion and is based on ancient symbols, deities, seasonal celebration and other factors.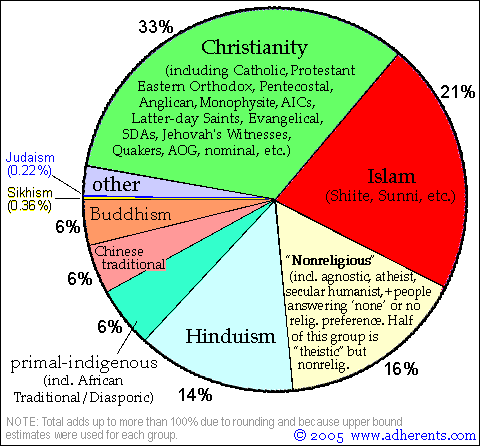 Various information sources are in general agreement that the three largest religions in the world are currently, in order, Christianity, Islam and Hinduism. However, a report by Pew Forum on religion & life revealed that Muslim population is forecast to grow at twice the rate of non-Muslims over next two decades and Muslims will be 26 % of world population by year 2030.
_
Religious practices:
Practices based upon religious beliefs typically include
1)  Prayer
_
2)  Worship
_
3)  Regular assembly with other believers
_
4)  A priesthood or clergy or some other religious functionary to lead and/or help the adherents of the religion
_
5)  Ceremonies and/or traditions unique to the set of beliefs
_
6)  A means of preserving adherence to the canonical beliefs and practice of that religion
_
7)  Codes for behavior in other aspects of life to ensure consistency with the set of beliefs, i.e., a moral code, like the ten yamas (restraints) of Hinduism or the Ten Commandments of the Old Testament, flowing from the beliefs rather than being defined by the beliefs, with the moral code often being elevated to the status of a legal code that is enforced by followers of that religion
_
8)  Maintenance and study of scripture, or texts they hold as sacred uniquely different from other writings, and which records or is the basis of the fundamental beliefs of that religion.
_
Why do people adhere to religion?
Religiosity of the World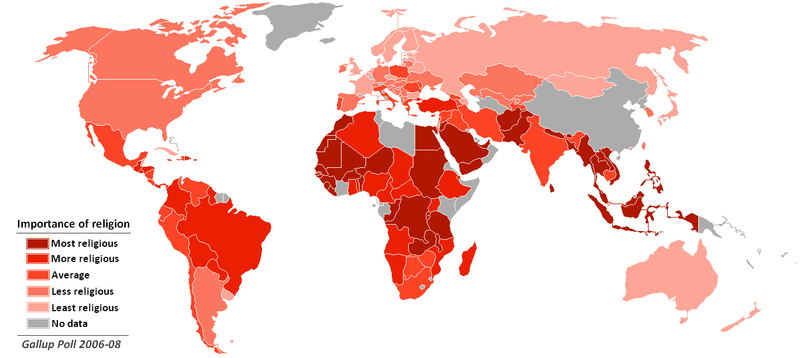 Trends in annual growth of adherence
1970-1985
1990-2000
2000-2005
3.65% – Bahá'í Faith
2.65% – Zoroastrianism
1.84% – Islam
2.74% – Islam
2.28% – Bahá'í Faith
1.70% – Bahá'í Faith
2.34% – Hinduism
2.13% – Islam
1.62% – Sikhism
1.67% – Buddhism
1.87% – Sikhism
1.57% – Hinduism
1.64% – Christianity
1.69% – Hinduism
1.32% – Christianity
1.09% – Judaism
1.36% – Christianity
1.09% – Buddhism
The annual growth in the world
population over the same period
is 1.41%.
Religion provide a vehicle for individuals to account for things which otherwise would be unexplainable and offer a safety valve for the relief of guilt. Religion provides a framework that serves as a code of behavior via the mechanisms of commandments and sin. For many, the practice of a religion causes an emotional high that gives pleasure to them. Such emotional highs can come from the singing of traditional hymns to the practices of Yoga. Most religions postulate a reality of connecting to the supernatural through religious practice. Many people from many faiths contend that their faith brings them fulfillment, peace, and joy, apart from worldly interests. Most religions bring moderation in behavior resulting in protecting adherents from the destructive or even fatal excesses to which they might otherwise be susceptible. Organized religions promote a sense of community. The combination of moral and cultural common ground often results in a variety of social and support networks. Each religion asserts that it is a means by which its adherents may come into closer contact with God, Truth, and Spiritual Power. They all promise to free adherents from spiritual bondage, and bring them into spiritual freedom. It naturally follows that a religion which frees its adherents from deception, sin, and spiritual death will have significant mental health benefits. Major religions are noted for the founding of many major universities, creation of hospitals, provision of food & medical supplies to the needy, and the creation of orphanages and schools amongst other charitable acts.
_
Why do people reject religion?
Percentage of people who believe that Religion is Unimportant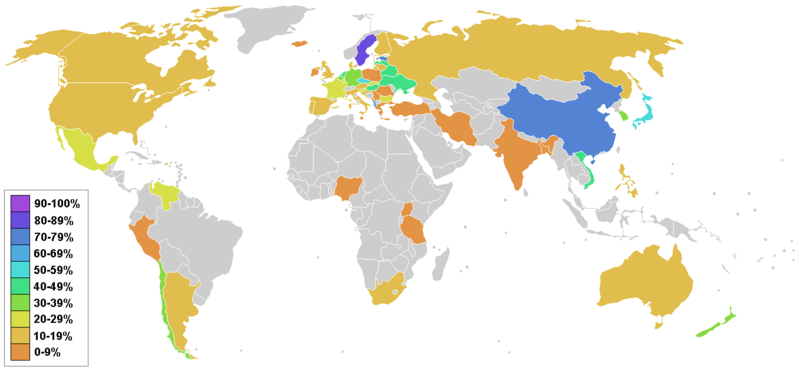 People believe that the body of evidence available to humans is insufficient to justify certain religious beliefs and many religious assumptions & assertions are illogical. Many religions have had an approach that produces practices that are too restrictive (e.g. dress, diet, activities) resulting in loss of fun, enjoyment, pleasure and prosperity. Religious leaders (godmen) and clergy who got themselves in positions of power & privilege through promotion of specific religious views, ultimately abuse their power & position to accumulate wealth and sexually exploit devotees. Many people believe that religion without sufficient evidence hinders the rational/logical thought processes necessary for effective government and effective governance. When things go wrong, religion makes a person to become self-righteous and look down upon an unbeliever for blame and punishment. Many religions state that those who do not belong to the religion in question are "inferior" and deserve contempt and thereby divide society and also responsible for spreading hatred and violence. Religion is also used as a tool of suppression to maintain order and nullify dissent by citing religious grounds. Many people believe that most mainstream religions have unsuitable moral systems and unappealing forms of practice. Many believe that religious teaching since early childhood promotes ignorance and dogmas.
_
Religious conversion:
Religious conversion is the adoption of a new religion that differs from the convert's previous religion. Changing from one denomination to another within the same religion (e.g., Muslim Shiite to Sunni) is usually described as reaffiliation rather than conversion. People convert to a different religion for various reasons, including: active conversion by free choice due to a change in beliefs, secondary conversion, deathbed conversion, conversion for convenience, marital conversion, and forced conversion. In contrast to all other religions, Islam teaches that everyone is Muslim at birth because every child that is born has a natural inclination to goodness and to worship the one true God alone, but his parents or society can cause him to deviate from the straight path. When someone accepts Islam he is considered to revert to his original condition. While conversion to Islam is among its most supported tenets, conversion from Islam to another religion is considered to be the sin of apostasy, and under some interpretations subject to death penalty. This differentiates Islam from all other religions.
_
Mysticism:
Mysticism in religion (to initiate) is the pursuit of communion with, or conscious awareness of the ultimate reality, the divine, the spiritual truth, or Deity through direct, personal experience (intuition or insight) rather than rational thought. Mystics speak of the existence of realities behind external perception or intellectual apprehension that are central to being and directly accessible through personal experience. They say that such experience is a genuine and important source of knowledge. Mysticism focuses on methods rather than logic for gaining enlightenment including contemplative practices such yoga and physical disciplines such as stringent fasting.
_
Superstition:
Superstition has been described as "the incorrect establishment of cause and effect" or a false conception of causation. Members of one religion often think other religions as superstition or superstitious. Some atheists, agnostics and skeptics regard religious belief as superstition. Religious practices are likely to be labeled "superstitious" when they include belief in miracles or extraordinary events, supernatural interventions, apparitions, charms, omens, incantations, afterlife or efficacy of prayer.
_
Myth:
Mythology is the set of beliefs, often religious, which has lost its credibility as valid facts. Myth in religion is defined as a story that is important for the group whether or not it is objectively or provably true. Examples include the death and resurrection of Jesus. Ancient polytheistic religions, such as those of Greece, Rome, and Scandinavia, are usually categorized under the heading of mythology. Even though Hindu gods lord Ram and lord Krishna are most revered by Hindus, their religious stories Ramayana & Mahabharata are considered as mythology by some historians.
_
Cult:
A cult is usually defined as a religious sect generally considered to be extremist with its followers often living in an unconventional manner under the guidance of an authoritarian, charismatic leader. A religion is not necessarily a cult, but a cult is always a religion. Being a cult religion is usually characterized by radicalism, oddness, obsession, short number of years, small number of followers and guidance by a founder who almost all the times tend to be authoritarian.
_
Religion and culture:
Culture is defined as the system of shared beliefs, values, customs, behaviors and relics that the members of society use to cope with their world and with one another, and that are transmitted from generation to generation through learning. The fundamental differences between culture and religion are that culture ought not to have faith in a deity, culture does not seek to organize and influence the thoughts and actions of their adherents, and culture is devoid of dogmas. Culture is what brings us together as human beings, as social creatures. We can work together to achieve what is not possible individually. We interact in accordance with the natural laws of social behavior, respecting each other's individual rights and respecting the property of one another. On the other hand, religion is usually based on unfounded assumptions, irrational dogmas and divisive practices. Religion is a set of ethics that follows the message of God or a spiritual head. Religion is an identity of people believing and following practices whereas culture is something that is common to all people belonging to a nation or a state irrespective of their language or community or religion. People can be highly cultured but nonreligious. People can be highly religious but uncultured. People can also be highly cultured and highly religious.
_
Religion and language:
The basis of religion is not only belief but also narrative and the narrative is largely a matter of language. There is thus a trivial sense in which religion and language are related to each other. It would be impossible to acquire a religion without the medium of language. No wonder, humans first developed ability to communicate with each other through language and then religions came into existence. Holy Quran is written in Arabic language and therefore people who use Arabic language in their conversation understand holy Quran better than non-Arabic people for the simple reason that translation from Arabic language into any other language can not exactly convey the same meaning & ethos of the verses of the holy Quran. On the other hand, language binds people greater than religion. I will give two examples. First; from various linguistic states in India where Hindus, Muslims and Christians live in harmony & peace and communicate with each other in the same language. Whenever a malayali meets another malayali anywhere in world, he immediately makes a rapport with another because the language of communication is Malayalam. My mother tongue is Gujarati language and when I was in Saudi Arabia, I used to make instant rapport with a person knowing Gujarati no matter whether he was a Muslim but I could not make the same rapport with another Hindu not knowing Gujarati. Second; Pakistan was created as an independent nation by partition of India in 1947 merely on the basis of religion. The East Pakistan & West Pakistan broke up with creation of Bangladesh mainly because of linguistic & cultural divide. Even though Islam was common in both East & West Pakistan, the Bengali language and the Urdu language were miles apart. The attractive force of religion could not overcome the repulsive force of language & culture and so Bangladesh was created.
_
Religion, ethics and morality:
The billion dollar question is what would be the basis or criteria to judge the difference between right and wrong or should and should not behavior of people if there is no impersonal standard of ethical value? Different communities and different individuals within the same community may have different perceptions on the same issue. And when the people's perception of good & bad; should & should not becomes contingent upon individual/group interest or convenient to social customs & environmental changes, these cannot be a dependable guide to human thought and behavior. Therefore, the universal basis to achieving uniformity in human behavior regarding good & bad may be the superhuman ethical code, which can only be derived from religion. Most religions have an ethical component, often derived from purported supernatural revelation or guidance. Ethics encompasses right conduct and good life. It is significantly broader than the common conception of analyzing right and wrong (morality). A central aspect of religious ethics is "the good life", the life worth living or life that is simply satisfying.
_
Morality is a sense of behavioral conduct that differentiates intentions, decisions, and actions between those that are good (or right) and bad (or wrong). Morality can be what a person's inherent rules of right and wrong that were not given to him by anyone or anything but are inherent morals that each person is provided with. Another way you can look at morality is the obvious religious implications that morals come from religion and religion only, which means whatever God says to be right & wrong are right & wrong because God is all wise and knows the morals that we should follow. When asked about why religion is necessary, one of the common answers most people will probably tell you (even if they aren't believers) is that religion provides a framework for moral behavior. The greatest tragedy in mankind's entire history may be the hijacking of morality by religion. Many people believe that it is blasphemous to deny the fact that morality is of divine origin. Can the Islamic terrorists who blow up air-planes and the pious Christians who kill abortion doctors are morally right because they are allegedly following holy texts? The really frightening thing is that the people who do these horrific acts are not psychopaths but rational and intelligent persons. It's just that they believe quite blindly that they are acting morally according to Holy Scripture. My contention is that religion is a grossly unreliable basis for morality. Religious folk believe that religion is necessary for morality because they've spent their entire lives being spoon fed a doctrine that upholds certain behavior as such. There is no Biblical commandment that says that you shouldn't download movies, games or music from the internet which is as good as stealing. There's no command in the Quran that says you shouldn't sell tickets to a game at a price that is higher than their market value. So how do we know these things are wrong? It comes from the collective enlightenment of society. Natural intelligent people came together and thought about how the advancements in society could be abused to cause harm and created laws that would govern these things – usually after the fact. Morality governs our propensity to determine harm caused to others – harm that is often not defined in religion at all. Human is a primate. All primates have innate morality. A moral sense is vitally important to the efficient running of any society or group. There are no amoral primate groups anywhere. Even Mafia have morals and baboons have codes. There are differences between various groups and their codes of morality but all primate groups have some morals and standards of behavior. Morality does not require religion. In Eastern Europe and the Soviet Union, millions of people were brought up in communities & states that were atheist but yet, there was no collapse of morality. You were not more likely to be robbed, raped, murdered or cheated in Moscow than you were in Washington. Morality in our species does not rest upon fear of God. We act morally because to do so makes us feel good about ourselves and make us better friends and allies. We as a species have an innate sense of morality just as we have an innate ability to learn language. We have an innate sense of what is or what is not fair. We need respect and esteem of our neighbours, friends and colleagues. This makes us behave morally. People will only act as amoral criminals if they fall into a criminal subculture, are mentally deficient in morality (genetically predisposed to criminality) or are in a situation in which crime really does pay in a way that can become a life choice. How many crimes have been prevented by the fear of God? Do religious people never commit crime or sin? Do atheists spend all their days stealing, murdering strangers and sexually abusing children? The statistics is shocking when religious people are compared to nonreligious people. Compared to religious people, "atheists and nonreligious people" are less nationalistic, less prejudiced, less anti-Semitic, less racist, less dogmatic, less ethnocentric, less close-minded, and less authoritarian. In the US, in states with the highest percentages of atheists, the murder rate is lower than average. In the most religious US states, the murder rate is higher than average. So there is overwhelming evidence to show that there is no link between belief in the supernatural deity (God) and morality.
_
Religion and sex:
We know that so much secrecy prevails in the area of human sexuality. Sexual expressions are preferably done in secret or discussed in hushed tones. There is hardly any open honest debate or dialogue on sexual issues going on anywhere. All questions about sexual matters appear to have been answered and such answers are taken to be correct- absolutely correct. Sexual rules are taken to be cast in stones without any room for revision, change or improvement. And any attempt to question, challenge or alter the sexual norms and traditions is perceived as a taboo or an open invitation to social chaos and moral anarchy. This secretive morality has caused so much confusion, misinformation and misrepresentation of sexual dynamics in the world. Unfortunately, religious faiths have capitalized on this confused situation to tyrannize over the lives of the people using their largely primitive and mistaken doctrines, dogmas, notions and norms regarding human sexuality. Most world religions have sought to address the moral issues that arise from people's sexuality in society and in human interactions. Each major religion has developed moral codes covering issues of sexuality and seeks to regulate the situations which can give rise to sexual interest and to influence people's sexual activities and practices. The greatest irony of religion is that even though we are all human beings, even though our men and our women have similar biological sex desires, different religions have different codes of sexual morality which regulate sexual activities differently. A Muslim couple has sexual morality & discipline different from a Hindu couple even though they perform similar sexual act. What more can I say? Of course I am not talking about premarital & extramarital consensual heterosexual activities which all religions condemn and yet, it is practiced everywhere. Human biological desires can not be tied down by supernatural guidelines. Yes, human biological desires need to be regulated but it has to be done by a dignified culture and not religious orders.
_
Religion and spirituality:
The spirituality is a perception of the commonality of mindfulness in the world that shifts the boundaries between self and others, producing a sense of union between self and others in confronting the existential questions of life, and providing a mediation of the challenge-response interaction between self and others that underlies existential questions. The term religion is used to refer to certain organized systems of belief, while spirituality is usually associated with people who are not members of a particular religion. Religious people may also be spiritual people, but someone who identifies themselves as part of a particular religion is not necessarily spiritual. Similarly, a spiritual person does not have to be a member of a certain religion, although they may also be religious. Spiritualism is a feature of the individual, not the group. Religion tends to involve group activities, rituals and rules. Spirituality is an enlightenment of a person to discover the essence of their being; or the deepest values and meanings by which people live. Spiritual practices, including meditation, prayer and contemplation, are intended to develop an individual's inner life. Traditionally, many religions have regarded spirituality as an integral aspect of religious experience. However, many believe that religion is not identical with spirituality; rather religion is a form that spirituality takes in civilization. Many people label themselves spiritual when they have the belief in something greater but cannot bring themselves to trust in a set religion or dogma.  A spiritual path leads to a higher state of awareness, to become a perfect human being, outreach wisdom or communion with God or with his creation.
_
The true God lives inside of each of us. That is the Divine is within you, not outside of you. This is the fundamental difference between religion and spirituality. Religion has mistaken the image for the truth. When Moses raged against the worshipping of idols, this is what he was talking about. Religious people commonly mistake their idea of God for the actual God. Thus a gulf is created between those who pursue spirituality and those who follow a religion. Religion insists that there is only one Right and True. Spirituality knows that all are Right and True. So spirituality can encompass religion with no distress, but it rarely happens the other way. Religion employs literature and rituals in its worship whereas spirituality uses personalized prayer and meditation. However in America, spirituality is seen as a process of personalizing religion from typical organized religious establishments and therefore American courts have refused to acknowledge any substantive difference between "religion" and "spirituality," concluding that "spiritual" programs are so much like religions that it would violate the separation of church and state to force people to attend them and the religious beliefs of these "spiritual" groups do not necessarily lead people to the same conclusions as organized religions, but nonetheless, that doesn't make them less religious.
_
Religion and state:
Secularism is the concept that government should exist separately from religion and/or religious beliefs. In political terms, secularism is a movement towards the separation of religion and government (often termed the separation of church and state). It eliminates discrimination on the basis of religion and adds to democracy by protecting the rights of religious minorities. Most major religions accept the primacy of the rules of secular, democratic society but may still seek to influence political decisions or achieve specific privileges or influence through making agreements with the state. History suggests that religion and culture inform all laws. Our laws emerge from a common Abrahamic tradition of morality on the western hemisphere and Vedic traditions of morality on the eastern hemisphere. This is especially true of criminal law. We know that murder and stealing are wrong because our time-honored religious principles have told us so, from Moses' descent from Mount Sinai to today. So basically, religions have traditionally helped us in making criminal laws. Both laws and religion try to bring some order of civility among disordered population. Law can refer to a human set of guidelines on morality & behaviour while religion focuses on the set of guidelines set forth by God or deity or prophet. The breaking of laws results in a set of punishment by the courts whose interpretation of the laws at hand may differ depending on the circumstances and different country have different punishment for same offences. On the other hand, breaking of religious course may result in frowning by other religious people and occasionally punishment under blasphemy; even though there is no scientific evidence of divine punishment for violating codes described in various sacred text. Theocracy is a form of government in which a state is understood as governed by clergy, or by officials who are regarded as divinely guided. From the perspective of the theocratic government; "God himself is recognized as the head of the state", hence the term theocracy from Greek meaning 'rule of God'. Theocracy should be distinguished from other secular forms of government that have a state religion, or are merely influenced by theological or moral concepts, and monarchies held "By the Grace of God". Iran's government is described as a "theocratic republic" and Iran's head of state or Supreme Leader is an Islamic cleric appointed for life. An Islamic state is a state that has adopted Islam (Sharia) as its foundations for political institutions and laws. Saudi Arabia is an Islamic state and maintains religious courts for all aspects of law and has religious police to maintain social compliance. The constitution of most democratic nations separates the institutions of religion and state, or more broadly the religious ideas and the government. Also, the constitution guarantees government "neutrality" toward religion in the sense of equal treatment among religions, and between religion & nonreligious ideas or activities. Whenever the constitution has been ambivalent or non-committal on this issue, the supreme courts of various nations have always intervened to define religion, to separate religion from the state and to enforce equal treatment to all religions.
_
Do you need a uniform civil code for all citizens irrespective of their religion in a democratic state? The provision in Indian constitution for uniform civil code is cautiously worded and calls upon the State to `endeavor' to secure such a code but it is neither time-bound nor carries a compulsive urgency. Nonetheless, Hindu fundamentalists make it a militant demand as if Hindu law should be made the national family law and there is apprehension in the mind of the Muslim minority that the Holy Quran is in danger as its sacred family law will be jettisoned. It is true that a common family code for all citizens alike may be a solidarity factor strengthening a sense of fraternity but national unity is not in peril by the absence of such a code. Nor does the enactment of such a code eliminate religious fumes and divisive feelings. In the state of Goa in India, from the Portuguese days, there has been a common civil code. Nevertheless, communal differences and religious schisms do mar the politics of that state. In a pluralist society like India, in which people have faith in their respective religious beliefs or tenets propounded by different religions or their offshoots; a uniform civil law, though highly desirable, may be counter-productive to the unity and integrity of the nation. In many countries, including the United States, people are governed by different laws in different States, based on region or religion. There are countries where living together without marriage is legally recognized, with rights ensuing to partners. The belief that uniformity of family laws even if primitive is necessarily productive of national integrity is a lie. A great code guaranteeing equal human rights is more desirable. Even though nationalism is higher than personal laws with plural variations, not believing in a common civil code does not necessarily make anyone anti-national. In fact, a better way out would be to reform various personal laws of various religions so that rights of children and rights of women are guaranteed & protected.
_
American Supreme Court has stated that freedom of religious belief is basic in a society of free men. It embraces the right to maintain theories of life and of death and thereafter, which may be a sacrilege to followers of orthodox faiths. Men may believe what they cannot prove. They may not be put to the proof of their religious doctrines of beliefs. Religious experiences which are as real as life to some may be incomprehensible to others. Yet the fact they may be beyond the ken of mortals does not mean that they can be made suspect before the law. Religion need not be bound by reason and logic.
_
The Universal Declaration of Human Rights, which was adopted without dissenting vote by the General Assembly of the United Nations in 1948, states in Article 18: "Everyone has the right to freedom of thought, conscience and religion; this right includes freedom to change his religion or belief, and freedom, either alone or in community with others and in public or private, to manifest his religion or belief in teaching, practice, worship and observance." This fundamental human right has been reaffirmed by the Declaration on the Elimination of All Forms of Intolerance and Discrimination Based on Religion or Belief that was approved by the General Assembly of the United Nations in 1981.
_
Secularism, tolerance and plurality:
Secularism as a modern political and constitutional principle involves two basic propositions. The first is that people belonging to different faiths and sections of society are equal before the law, the constitution and government policy. The second requirement is that there can be no mixing up of religion with politics. It follows therefore that there can be no discrimination against anyone on the basis of religion or faith nor is there room for the hegemony of one religion or majoritarian religious sentiments and aspirations. It refers to a belief that human activities and decisions should be based on evidence and fact, and not superstitious beliefs, however devoutly held, and that policy should be free from religious domination. For example, a society deciding whether to promote condom use might consider the issues of disease prevention, family planning, and women's rights. A secularist would argue that such issues are relevant to public policy-making, whereas religious interpretation or doctrine should not be considered and are irrelevant. Secularism does not necessarily equate to atheism; indeed, many secularists have counted themselves among the religious. Freedom of religion is not necessarily identical with the separation of church and state (secularism) and religious pluralism. In a country that is not a secular state, freedom of religion can exist if the state religion grants religious toleration to all other religions. Religious pluralism is the view that all religions are equally valid, equally worthy and are even equally true religions. Religious pluralism and religious tolerance are different concepts. To tolerate a point of view is not to believe it to be true nor to agree with it; religious tolerance is not about agreeing with people from other religious traditions to our own. Rather, tolerance is about treating with respect those with whom one disagrees. In order to tolerate a person's beliefs, therefore, one has to disagree with them. Tolerance does not involve agreeing with people; it involves disagreeing with them but treating them respectfully anyway. Tolerance requires disagreement; one can only tolerate what one believes to be in error. Religious pluralism, which denies that any religion is in error, is therefore inconsistent with the virtue of tolerance. In fact, religious pluralism is a concept of contradiction. Islam prohibits idol worshiping and Hindus regularly practice idol worshiping and so how can both religions be equally true?  Muslims can tolerate Hindus and Hindus can tolerate Muslims by agreeing to disagree with each other about idol worshiping.
_
The term religious pluralism can also be used as a synonym for inter-faith dialogue. Inter-faith dialogue refers to dialogue between members of different religions for the goal of reducing conflicts between their religions and to achieve agreed upon mutually desirable goals. Inter-religious dialogue is difficult if the partners adopt a position of particularism, i.e. if they only care about the concerns of their own group, but is favored by the opposite attitude of universalism, where care is taken for the concerns of others. Inter-faith dialogue is easier if a religion's adherents have some form of inclusivism, the belief that people in other religions may also have a way to salvation, even though the fullness of salvation can be achieved only in one's own religion. Conversely, believers with an exclusivist mindset will rather tend to proselytize followers of other religions rather than seek an open-ended dialogue with them. Religions need to move from a "language of power" to a "language of moral authority".  There is a need to develop cross-religious associations at the grassroots level, institute education on citizens' rights and foster religious virtues which are inclusive, substantial and contextual. Religious education should stress inclusiveness and the ethical & moral dimensions of religion, rather than its formal ritual, scriptural dimensions and exclusiveness.
_
Religion and women:
Today, "private" issues, related to the family, sexuality and reproduction, have become sites of intense public contestation between conservative religious actors wishing to regulate them based on some transcendent moral principle, and feminist and other human rights advocates basing their claims on pluralist and time-and-context specific solutions. Not only are claims of "divine truth" justifying discriminatory practices against women hard to challenge, but the struggle for gender equality is further complicated by the manner in which it is closely tied up, and inseparable from, struggles for social and economic justice, ethnic/racial recognition, and national self-determination vis-à-vis imperial/global domination. Mixing of government and religion harms women's rights and women's empowerment. Shah Bano case in India is a classical example of Indian government bypassing Indian Supreme Court verdict by enacting laws to please Muslim orthodoxy. In Pakistan, anyone who advocates equal rights for women can be accused of blasphemy and may get death penalty for promoting feminism. Also in Pakistan, a woman who is raped can't go to the police because she'll be accused and convicted of infidelity. Women's rights are almost nonexistent in these religion-dominated countries like Saudi Arabia, Iran, Afghanistan under Taliban rule & Pakistan, just as they were in Europe when religion was in charge. For Muslim women, the consequences of questioning or speaking out against faith can be particularly sharp. In the early 1990s, the Bangladeshi writer Taslima Nasreen's novel "Lajja" was banned, and she was forced into exile for her apparently blasphemous call for revisions of the Quran. Women's rights groups in Bangladesh noted that the attacks on Ms. Nasreen by Islamic fundamentalists happened against a backdrop of rising intolerance and an increase in honor crimes against women, including the caning and stoning of women who were seen to have transgressed Shariah law. Thirteen Iraqi Kurdish women's rights activists were accused by a prominent Muslim cleric of "blasphemy and demoralizing Kurdish society," because of their work in promoting gender equality. In Britain, performances of "Behzti," a play by Gurpreet Bhatti set in a gurdwara, or Sikh temple that explored sexual violence within the British Sikh community were shut down shortly after its opening in 2004. The play was not performed until 2010; six years after Ms. Bhatti had received abduction and death threats from other Sikhs. Religion is assumed to be the domain of men, and women do not have much role in it. Women generally do not have the right to question religion – this is something men hold on to tightly, and it's not only in Islam. Look at all these so-called honor killings in India – all of them under the guise of religious sanction and tradition. The most revered Hindu God lord Ram abandoned his pregnant wife Sita because she was accused of infidelity by one citizen even though lord Ram was aware of her chastity and sacrifice. So the issue is not Islam or Hinduism but there is overwhelming evidence to show that religions are prejudiced against women and consider women as inferior humans.
_
Religion and wealth:
Religion is a huge business in India, and like many other religious institutions, place of worship too is run mostly by business-minded people who, contrary to the general belief, do everything that a business does. It is also a booming industry. Religion in India is also spawning a plethora of business ventures from music and video compact discs, to tourism and TV channels, even to spiritual portals that allow an Indian to pay obeisance to his or her God through the Internet – for a price. The influence of religion on India's consumption habits is highlighted by the fact that almost half the demand for consumer goods comes between October and December, which is the period of religious festivals in the country. Religion in India is dogged with controversies, intrigue, infighting and crime, all because of the money, power and influence it wields. Religion provides a perfect cover for many misdeeds and India is full of such instances.
_
Contradictory studies show relationship between religion and wealth. Some studies have found strong correlations between wealth and lack of religious beliefs and specifically it has been shown that affluent countries are mainly those whose populations do not believe in any God. On the other hand, some studies found that people who attend religious services achieved more wealth than those who do not (taking into account variations of education and other factors). Studies conducted by the Pew Research Center have found that generally poorer nations had a larger proportion of citizens who found religion to be very important than richer nations, with the exceptions of the United States and Kuwait. Another study found that increased religiosity causes economic inequalities and in countries where people are very religious, there is greater economic inequality and the economic inequality itself leads to increased religiosity and so the vicious cycle continues.
_
Religion and India:
The Constitution of India declares the nation to be a secular republic that must uphold the right of citizens to freely worship and propagate any religion or faith (with activities subject to reasonable restrictions for the sake of morality, law and order, etc.). The Constitution of India also declares the right to freedom of religion as a fundamental right. It mandates equal treatment and tolerance of all religions. India does not have an official state religion; it enshrines the right to practice, preach, and propagate any religion. No religious instruction is imparted in government-supported schools. India is the birth place of four of the world's major religious traditions; namely Hinduism, Jainism, Buddhism and Sikhism. Throughout its history, religion has been an important part of the country's culture. Religious diversity and religious tolerance are both established in the country by law and custom. According to the 2001 census, Hinduism accounted for 80.5%, Islam (13.4%), Christianity (2.3%) and Sikhism (1.9%) of the population of India. The Indian Constitution also suggests a uniform civil code for its citizens as a Directive Principle but what we need is a debate about uniform civil code and the issue should not be hijacked for vote-bank politics. The Muslims, Christians, Zoroastrians (Parsees), and Jews have personal laws exclusive to themselves in India while Hindus, Jains, Buddhists and Sikhs are governed by a single personal law known as Hindu personal law. Growing disenchantment with the Hindu caste system has led thousands of Dalits (also referred to as "Untouchables") to embrace Buddhism and Christianity in recent decades but Hindu nationalist party BJP assert that such religious conversions are often forced or allured. Both the Congress Party and the BJP have been accused of exploiting the religious sentiments of people for vote bank politics. The Shah Bano case, a divorce lawsuit, generated much controversy when the Congress was accused of appeasing the Muslim orthodoxy by bringing in a parliamentary amendment to negate the Supreme Court's decision. The Liberhan Commission that probed the Babri Masjid demolition in India came down heavily on mixing politics & religion and has recommended a law providing for exemplary punishment for misuse of religion to acquire political power. The use of religion in Indian politics can be linked to the country's pre-independence era of the British, who ruled India for more than 100 years around the 19th century, pitched one community against the other to weaken the freedom struggle. Mahatma Gandhi, a devout Hindu himself, was assassinated by Hindu extremist because he was allegedly favouring Muslims of Pakistan at the time of partition of India. Mahatma Gandhi was not killed by imperialistic British or fundamentalist Muslim. So seeds of Hindu-Muslim divide were sawn even before India became independent. No wonder, India and Pakistan fought 3 wars and even today are bitter adversaries. The religious divisions affect both party organization and voting habits. Indian media does not always serve the public well in these matters. One issue is that Indian media does not have a religion beat per se, and thus lack reporters with expertise. The Indian media often fail their publics with poor reporting and by misrepresenting violent events in a way that protects the perpetrators. The media consistently label communal violence as spontaneous "riots" even when the evidence implies they were premeditated. The Indian media is divided into Congress media and BJP media and therefore lack independent analysis.
_
Major religious riots, since Independence in secular nation India
| | | | | |
| --- | --- | --- | --- | --- |
| Year | Riot | State / Region | Cause | Aftermath |
| 1984 | Anti Sikh riots | Delhi | Assassination of Indira Gandhi | Government of India reported 2,700 Sikh deaths and 20,000 displaced. |
| 1992-1993 | Bombay Riots | Mumbai | Demolition of Babri Masjid | 900 people dead |
| 2002 | Gujarat Riots | Gujarat | Godhra train burning | 1,044 people killed; 790 Muslims and 254 Hindus (including those killed in the Godhra train fire) |
| 2008 | Kandhamal riots | Kandhamal district, Orissa | Murder of Swami Lakshmanananda | Over 20 killed and over 12,000 displaced |
Despite being the largest democracy in the world, despite being a secular state, despite having separate personal laws for major religions, despite having a culture of religious tolerance for centuries, India has witnessed horrendous communal riots as shown in the above figure. Why?
_
Religion, politics and violence:
Organized religion traces its roots to the Neolithic revolution that began 11,000 years ago. The states born out of the Neolithic revolution, such as those of Ancient Egypt and Mesopotamia, were theocracies with chiefs, kings and emperors playing dual roles of political and spiritual leaders. Anthropologists have found that virtually all state societies and chiefdoms from around the world have been found to justify political power through divine authority. This implies that political authority co-opts collective religious belief to bolster itself. Basically uncivilized and disorganized people were brought together under one umbrella of religion to live a civilized and better life. Nonetheless, even though religion is thought to be opposed to violence and a force for peace & reconciliation; the history and scriptures of the world's religions tell stories of violence & war as they speak of peace & love. There are many instances in various sacred texts where violence is preached.
_
Certain verses in the Holy Quran may promote violence.
Verse 9:123 – "Believers, make war on the infidels who dwell around you."
Verse 47:3 – "When you meet the unbelievers in the battlefield strike off their heads and, when you have laid them low, bind your captives firmly."
Verse 48:29 – "Muhammad is Allah's apostle. Those who follow him are ruthless to the unbelievers but merciful to one another."
_
These verses are commanded to fight to kill all non-Muslims including atheists, secularists, humanists, evolutionists, and all other religions according to one interpretation. Another view is that Muslims are encouraged to fight in self-defense in case they are attacked by unbelievers. Fanatics & terrorists accept the former view and moderates & civil society accepts the later view. Nonetheless, the fact remains that violence is encouraged in holy texts. No wonder, Islam today is viewed by many in the West as an aggressive religion that promotes terrorism. Sadly, it is often the case that the killing of innocent people, suicide bombings, and terrorist activities are carried out by people who claim to be Muslims. However, in reality, the responsibility for such malicious acts actually rests with the so-called scholars of Islam, who are gravely mistaken in their understanding on the issue of Jihad. They consider the unjustified killing of human beings 'by the sword' as a religious duty. These scholars have deliberately misinterpreted verses of the Holy Quran and equated true Islamic Jihad to rebellion for their own benefits.
_
Holy Quran is not the only sacred text where there are phrases supportive of violence no matter whether they are quoted out of context or not. Even the Hindu sacred text Bhagavad Gita has phrases supportive of violence. In the sacred Hindu text Bhagavad Gita, Lord Krishna preached Arjuna to fight a holy war against his own cousins who had done great injustice to him & his family. At the end of the Bhagavad Gita, there is a horrific 18-day war at Kurukshetra. People who loved the Bhagawad Gita found it difficult to make sense of the Mahabharata bloodbath and preferred looking at the war as a metaphor. But descriptions of the war are far from metaphorical. It is brutal beyond belief.
_
Even in Holy Bible, there are phrases supportive of violence. In Numbers 31, the Lord tells Moses to kill all the Midianites, sparing only the virgins. In Deuteronomy 13:6-16, the Lord instructs Israel to kill anyone who worships a different god or who worships the Lord differently. In Mark 7:9, Jesus is critical of the Jews for not killing their disobedient children as prescribed by Old Testament law. In Luke 19:22-27, Jesus orders to kill anyone who refuses to be ruled by him. Of course, context is important and many of these seeming cruelties disappear when read in proper context. However, this would not stop a Christian terrorist from interpreting the Bible in a manner necessary to concoct a religious justification for unspeakable horrors.
_
This religious divine righteousness over and against other groups, leads to violence because conflicting claims to superiority, based on unverifiable appeals to God, cannot be adjudicated objectively. All monotheistic religions are inherently violent because of an exclusivism that inevitably fosters violence against those that are considered outsiders and these Abrahamic religions have a violent legacy and occasionally such legacy is actually genocidal in nature. We have just enough religion to make us hate, but not enough to make us love one another. There are good & bad people in all societies but religious texts and religious ethos affect goodness and badness proportionally. Violence described in holy Quran, Bhagawad Gita and Bible make bad people worst no matter what was reference to context of those phrases that support violence in these sacred texts. You will not find a Buddhist or a Jain terrorist because their religious texts do not support violence in any form no matter what was reference to context and no matter whether violence was being supported as a mean of retribution.
_
Religious persecution is the systematic mistreatment of an individual or group of individuals as a response to their religious beliefs or affiliations or lack thereof. In many countries, religious persecution has resulted in so much violence that it is considered a human rights problem. A situation in which religious persecution occurs is the opposite of freedom of religion. In my view, religious persecution should also include violence due to religious fundamentalism, religious terrorism and blasphemy. However, the systematic mass murder of millions of European Jews by the Nazis was not a religious persecution, since the Nazis persecuted Jews as a race, not as a religion. So ethnic cleansing is not necessarily religious in origin.
_
Fundamentalism is strict adherence to specific set of theological doctrines typically in reaction against modernity. Most major religions have fundamentalist groups operating within its domain. They see themselves as protecting not only a distinctive doctrine, but also a vital principle, and a way of life and of salvation. The fundamentalist "wall of virtue", which protects their identity, is erected against not only other religions, but also against the modernized, nominal version of their own religion. However, many claims made by a fundamentalist group cannot be proven, and are irrational, demonstrably false, or contrary to scientific evidence. Nonetheless, religious fundamentalism is linked to religious violence. The greatest solace to fundamentalism is lack of condemnation of extreme religious views by so called moderates. I have yet to see genuine condemnation of Islamic terrorists by moderate Muslims. I have yet to see genuine condemnation of Hindu terrorists by moderate Hindus. What I see is only lip service before media.
_
When we consider the link between religion and politics, it appears as though we are trying to link two subjects or objects which are absolutely divergent. While politics is the name given to the art of governing a country, religion is the name given to the acceptance of a superhuman who is governing from somewhere, above all, the human race. All realms of life employ binary classifications to define the particular scope and the special content of their domain. In the moral, it is good and bad. In the economic, it is profitable and unprofitable. In the aesthetic, it is beautiful and ugly, and so on. In the political, it is friend and enemy, and all politically significant concepts arises from this binary distinction. So continuing the same analogy, the religious is concerned with what is holy and evil. Since the job of both religion and politics is to bring order among disordered population, and since friendliness is holy and enmity is evil; it is natural to assume that religion and politics are two sides of the same coin. So whenever there is violence associated with religion, politics ought to be there to initiate and perpetuate violence. Whenever violence is initiated by terrorist outfit belonging to a particular religion, their master minds are simply playing politics to achieve political goals under disguise of religious order. There is no difference between violence initiated by terrorists and communal riots initiated by politicians because net result is the loss of innocent lives as a mean to achieve political goal. Religion is regarded by common people as true, by the wise as false, and by the politicians as useful because politicians want to exploit religious sentiments of common people to create vote bank which they could not create by development. Karl Marx defined it as "Religion is the sigh of the oppressed creature, the heart of the heartless world, just as the spirit of a spiritless situation. It is the opiate of the people." Napoleon Bonaparte described it as "Religion is excellent stuff for keeping common people quiet." So religion has been used to addict and to silence common people. Of course, the day common people become wise, things will change and it is my endeavor to make common people wise.
_
Even in a developed nation like America, many politicians behave like Christian clergy and oppose same-sex marriage, legal abortion & AIDS education; and support "family values," Israeli policies toward Palestine, the "war on terror" & a whole slate of ideologically related (if not logically related) views. By invoking God – whether a "Republican" God or a "Democratic" God – the effect is to claim a divine imprimatur on one particular side of the debates that follow. So religion and politics can not be separated even in the so called free democratic developed nations.
_
Religion and politics got irrevocably intertwined in the state of Punjab in India. Adept at using religion, the Akalis ensured the Congress was at the receiving end in the 1980s. Indira Gandhi believed, if you can not beat them, so join them. So the Congress propped up Jarnail Singh Bhindranwale to counter the Akalis, creating a terrorist. What followed was the killing of innocent Hindus and Sikhs. Just like the Congress party propping up of Bhindranwale eventually resulted in Operation Blue Star and Indira Gandhi's death, so also Pakistani support for terrorism in India & Afghanistan eventually resulted in the attacks on Pakistan itself and now Pakistan says that it is a victim of terrorism. Mixing religion with politics was the British strategy of divide and rule in their colonies and today, leaders of India and Pakistan are following same strategy. The issue as to whether the religion should be involved in politics is no longer a debate. Religion and politics are inseparable. The question therefore, is not whether the religions should be involved in politics but how and to what extent the religion can contribute to democratic politics without losing sight of its mission, vision and indeed, credibility.
_
Religion is being looked at now as a source of conflict and problems, but if you go back to the founders of religions, whether Islam or Judaism or Christianity, all these faiths reflected a very peaceful life, and true followers understood that true nature of faith. The ranting of people like Osama Bin Laden has over-shadowed beautiful teachings based on compassion and service to humanity. Those that are giving the bad name, whether Christian or Muslim, are not that many. They are a handful, yet this is all we hear about in the media. It is the media that give publicity to terrorists and make them famous. A terrorist blast  killing 10 people will get much higher coverage in Indian media than death of 100 people due to stampede at Sabrimala shrine in India because at the end of a day, TRP counts. The peace-loving people of all religions should stand up for what they believe in and not be intimidated by handful of terrorists or swayed by media propaganda.
_
Can various diverse religions basically lead to same goal? There is an old Indian tale – that of the blind men who tried to describe an elephant. It is said that once upon a time a king gathered a few men who were born blind. They were asked to describe an elephant, but each one was presented with only a certain part of it. To one was presented the head of the elephant, to another the trunk, to another its ears, to another the leg, the body, the tail, tuft of the tail, etc. The one who was presented with the head said: "The elephant is like a pot!" The one who was presented the trunk answered, "The elephant is like a hose." The one who touched only the ears thought that the elephant was a fan; the others said that it was a pillar, a wall, a rope, a brush, etc. Then they quarreled among themselves, each thinking that he was the only one right and the others were wrong. The obvious truth is that the elephant is a unity of many parts, a unity that they could not grasp in their ignorance.
In the same way, various world religions form a unity, and only that unity provides the right perspective on ultimate truth, and that unity is not visible due to ignorance. If all religions indeed lead us to the same finality but we believe that only one of them is right, then we have not lost anything. Despite our ignorance, we will arrive at the same happy end. On the other hand, if only a single religious path indeed is valid and we have chosen the wrong one, then we are heading for disaster. Unfortunately, major world religions like Islam & Christianity claim to be the only right path to God which ultimately results in religious hatred, intolerance and violence. So religious tolerance and freedom cannot be built on ignorance but rather on the understanding of commonalities and differences. Loving a person is possible even if one rejects his or her religious convictions. After all, religion is not merely idol worshipping, rituals or ceremonies but in fact, a reason for righteousness, for doing good and leading an honest life. So it can be said that religion instills a certain fear of penalty and punishment if a person strays from the right path but that punishment can not be given to another person merely because his religious belief is different from your religious belief. True religion is basically a way of life and propagates truth, peace, harmony and non-violence but how common you see true religion in life?  In the name of religion and Jihad, our grossly misinterpreted concepts have led to a battlefield where two religions are required to fight against each other. In reality, it is not religions that fight; it is the vested interests of politicians and other unscrupulous persons who encourage and instigate young, impressionable and closed minds to do "God's bidding", which is to fight. Terrorism is led not only by religious fanaticism, but supported by poverty, unemployment, greed and corruption. The only living terrorist of 26/11 attack on India Ajmal Amir Kasab was a small time criminal in Pakistan who was lured into terrorism for the sake of money. And there are thousands of poor unemployed youth who are willing to become a terrorist for money and a place in heaven as alleged by their mentors.
_
Peace building is a process of reconstructing relationships between individuals, social groups and communities. Religion can play an integral role in peace building, thus fostering the integral development of individual and communities.  Religious leaders must play the pivotal role building peaceful families, institutions and society at large. Through the paradigm of restorative justice, religion surpasses legal and retributive dimension of justice. Religious and civic education programs for socio- economic, political, religious and economic transformation that enhances responsible citizenship should never be neglected by any religion. Inter-faith dialogue is also important for religions to witness to the message of peace and integral development. At the root, all religions agree, more or less, on the concept of an immortal soul, and a blissful state of awareness called "Heaven", "Nirvana", "Samadhi", etc., in which the mind makes contact with an immortal layer of its own true nature.
_
We currently live in a world full of selfish people that believe that their way is right, and anyone else's way of thinking that differs even slightly from their beliefs is wrong! In order to achieve a world without religious hostility, you need understanding and respect other religions. What we need to do is promote more open mindedness when it comes to studying other belief systems. I've encountered Muslims in Saudi Arabia who believe that anyone that's not a Muslim, (for example Hindus, Buddhists, etc.) is going straight to hell after they die. If we would only take a little time to learn about and understand each other's differing views and get rid of some of these outdated belief systems, we would be much better off. We can tolerate other people's viewpoints, but without respecting their views and showing consideration for them when making decisions, the concept of understanding becomes moot. So respect and understanding go hand in hand for religious inclusiveness & tolerance.
_
Religion and blasphemy:
The word "blasphemy" came via Middle English blasfemen and Old French blasfemer and Late Latin blasphemare and from Greek meaning "I injure reputation". Some countries have laws to punish blasphemy and these laws may discourage blasphemy as a matter of blasphemous libel, vilification of religion, religious insult, or hate speech. Consider the assassination of Governor Salman Taseer in Pakistan by his own bodyguard. His crime? The governor wanted the blasphemy laws repealed. There was a huge public demonstration in support of his assassin who was seen as a hero of Islam. The governor never committed blasphemy and had highest respect for Prophet Muhammad but even the clergy who performed his last rights were threatened. In my view, the assassin who killed Governor Salman Taseer is an evil human and he should be condemned by the civil society in Pakistan. The Bible, the Quran or any other religious scripture will at best give the principles and not the prescription for their adherents in a particular place. It is up to the people of a particular milieu to apply these principles to their present circumstances and time. But instead, people are coerced to apply these principles as if they are still living in previous millennium under pretext that God's words can not change and any change would be blasphemy.
_
The tendency to turn human judgments into divine commands makes religion one of the most dangerous forces in the world. If God indeed exists and created this universe, then, there can not be a Hindu god, a Muslim god or a Christian god and therefore all religions must indeed lead to the same goal and the apparent contradiction seen in various phrases of the same sacred text or between different sacred texts would mean that these religious texts were created by humans and not the words of God, because by definition, God is above contradiction. So if a religious person deviated from the words in a sacred text, it would not be a blasphemy as long as he respects the God because these words were human indeed and therefore not infallible.
_
People whose religious beliefs are based on ignorance usually become fanatics. Because people cannot tolerate their ignorance, they hide it. Because it is difficult to know that one does not know, it is against the ego, so people believe. Their belief systems function to protect their egos. They cannot even tolerate that there can be other sorts of religions in the world. Because they are so afraid of their ignorance, if there is some other religion also, then they will become suspicious, then doubt will arise and then they will not be so certain. So to gain certainty they become very stubborn, madly stubborn. They cannot read & appreciate other scriptures, they cannot listen to other nuances of truth, and they cannot be tolerant to other revelations of God. Their revelation is the only revelation, and their prophet is the only prophet. Everything else is absolutely false. Religion has become the celebration of ignorance, the worship of ego, the promotion of emotion over the filter of reason. The problem with such a religion is that we are almost always brought up in it. We are conditioned in it, so it becomes almost normal. It looks normal. A Christian is brought up with the idea that others are wrong. Even if he is taught to be tolerant, that tolerance is of one who knows that others do not know. A Muslim is absolutely brought up with the belief that only he is right; others are all ignorant, stumbling, groping in darkness. This conditioning can become so deep that you may forget that this is a conditioning, and that you have to go above it. The conditioned reflex was discovered by a Russian physiologist named Ivan Pavlov (1849-1936) is said to be conditioned in the sense of being dependent for its existence or state upon the occurrence of a certain kind of repeated, reinforcing stimuli. The ability to learn by experience is simply a matter of a conditioned reflex. So religion is indeed a form of conditional reflex learned by religious experiences since childhood and religious fanatics have conditioned their minds in such a way that they become oblivious of rationality & knowledge.
_
Religion and science:
| | |
| --- | --- |
| Religion | Science |
| Belief in Supernatural | No place for Supernatural beliefs |
| Has godmen | Does not accept godmen or anybody unquestioningly |
| Essence of religion is miracle | No miracle in science |
| Based on revelation | Based on Method of Science |
| Makes predictions that cannot be tested, as in astrology | Makes testable predictions |
| Religion is static – once formed never changes | Science is dynamic – evolves continuously |
| In religion, truth represents the opinion of its leaders | In science, truth is not somebody's opinion. It can be verified, tested and validated. |
| No built-in correction | Built-in correction present |
| Questioning is not permissible | Questioning is one's fundamental right |
| Godmen have answer for everything | Scientists do not have any hesitation to admit that they don't know |
| Parochial | International |
| Divides the people | Unites the people |
| Inspired by emotion | Guided by logic |
_
In the 17th century, Galileo was tried and imprisoned by Roman Catholic Church because he said that the earth revolves around the sun and not vice versa. In 1895 Charles Darwin published a book describing his theory of evolution and natural selection process. This theory caused much uproar in the religious community because Darwin's theory went against the story of creation portrayed in the Holy Bible. His theory claimed that all life currently in place had evolved and adapted from a single organism in the beginning. Over time and by process of natural selection, only the dominant species were left over while the other less dominant species went extinct. His theory, backed by scientific analysis, had dismissed the idea of a single deity creating all life on Earth. No wonder, there is a long history of contempt for science & scientists by the clergy. Nonetheless, in the past, many scientists have held strong religious beliefs including Newton. Today, religious belief among scientists is less prevalent than it is in the general public. A study in America in the year 2009 found that 33% of scientists and 83% of the general public believe in God, another 18% of scientists and 12% of the public believe more generally in a higher power, and 41% of scientists and 4% of the public believe in neither. Some of the modern religious leaders asserted that science and religion cannot oppose each other because they are two sides of the same coin of truth and affirmed that reasoning power is required to understand the truths of religion and that religious teachings which are at variance with science should not be accepted because religion has to be reasonable since God endowed humankind with reason so that they can discover truth. However, religion and science use different methods in their effort to ascertain Truth. Religious methods are generally subjective, appealing to personal intuition or experience, or the authority of a perceived prophet or sacred text. Scientific methods are generally objective, appealing only to the observable and verifiable phenomena. We live in the age of science and we cannot be called upon to accept incredible dogmas or exclusive revelations. Those religions, which are insensitive to human ills and social crime, do not appeal to the modern people. Religions, which make for divisions, discord & disintegration; and do not foster unity, understanding & coherence, play the role of a divisive force in the world. Contradictions between science and religious beliefs are attributed to human fallibility and arrogance by supporters of religions. Religious leaders often say that texts of holy books are words of God and nobody can challenge it as it would amount to blasphemy and will invite heavenly wrath. Right from the theory of evolution to homosexuality to abortion to stem cell research to contraception, religion and science can not meet eye to eye. Biologists propose evolution and believers counter with creation. Physicists say "Big Bang" and pastors say "God's handiwork." Science is theories and religion is theology. Religion is about turning untested belief into unshakable truth and science is about testing theories into scientific laws. Where is the meeting ground? No doubt, religion without science is superstition but science without religion is not necessarily materialism. In fact, most religious leaders are highly materialistic while most scientists are quite spiritual.
_
Relativism:
Relativism is an "anything goes" way of looking at reality. Truth and knowledge are not absolute, but are dependent on the observer's perspective.
Relativism broadly states:
1)  There is no absolute truth.
2)  There is no standard of right and wrong.
3)  No-one has the right to make judgments.
4) Truth is unknowable and depends on the views of the society, culture, or person.
5)  Therefore, no-one should judge others concerning their beliefs.
_
Relativistic thinking may have some merit when dealing with morals and ethics to the extent that such values are often determined by the cultural beliefs of those making the moral or ethical decisions. Relativistic thinking states that we all construct our own reality. What is true for one person may not be true for another, and vice versa, but anything a person does believe is true for them. Relativism applies very well to religions but not to science. For example, consider the chemical compound Potassium Cyanide. This is known by scientists to be lethal to humans in very small doses.  The critical question is: is Potassium Cyanide only lethal to those who believe it is lethal and is it harmless if you don't believe it to be poisonous? The answer of course is that it is lethal whether you believe it to be or not. Relativists can all have differing views of what constitutes reality in relation to their own way of thinking, but no amount of faith, belief, or alternative reality is going to save them from Cyanide poisoning. Cyanide is poisonous to humans – a universal truth. So science propagates universality of truth while religion propagates relativity of truth.  Science is willing to admit mistakes/ changes while religions never admit mistakes/ changes. Science grows by improvisation while religions grow by coercion. Faith is simply belief without proof. Science, even where it is not completely correct, requires evidence and proof to justify its position. It is the requirement of evidence and the need for claims to be falsifiable that disqualifies science as a faith. The fundamental difference between science and religion is the propensity to change. You ask any Muslim about holy Quran and he will say that whatever is written is final and will remain so for ever. You ask any Hindu about Bhagavad Gita and he will say the same thing. You ask any Christian about holy Bible and he will say the same thing. No scientist will ever say that whatever written in scientific books is gospel truth and will always leave space for change. Change means improvisation and improvisation means progression. No change means no improvisation and no improvisation means regression. So science progressed and religion regressed.
_
Many people trust the information science offers rather than religion because science seems to be more reliable. Science has replaced religion as the dominant intellectual authority because science offers the chance to understand the universe, whereas religion just assumes things. What science cannot discover, mankind cannot know. Now various religions are trying to prove that whatever is discovered by science already existed in sacred texts. Holy Quran is supposed to have knowledge about sperm, egg and fertilization. Ramayana has knowledge about how aircrafts fly and so on. So religious scholars are trying in vain to prove that whatever science discovered already existed in sacred texts to establish superiority of religion over science.
_
A study found that there is a genetic predisposition in some towards belief (believer gene) and another study has shown that more religious people tended to have more children; both these studies coupled together will result in growth of religion among population. No doubt, major religions oppose family planning & contraception and so deeply religious couples have more children. Scientific studies have been done on religiosity to correlate between religiosity and intelligence (often IQ) and found that religiosity is inversely proportional to IQ.  A recent study on serotonin receptors and religiosity suggests a correlation between low density of serotonin receptors and intense religious experiences. Also of popular interest are the studies regarding prayer and medicine, in particular whether there is any causal or correlative link between spiritual supplication and improvement of health. An analysis of over 200 social studies found that high religiousness predicts a rather lower risk of depression & drug abuse and fewer suicide attempts; and more reports of satisfaction with life and a sense of well-being. Another review of 498 studies published in peer-reviewed journals concluded that there is a positive correlation between religious commitment and higher levels of perceived well-being and self-esteem, and lower levels of hypertension, depression and clinical delinquency. Other studies have shown that certain mental disorders, such as schizophrenia and obsessive-compulsive disorder, are also associated with high levels of religiosity.
_
According to classical theistic religion, God has created the world; He also upholds & conserves it, and preserves it in being. Without His conserving activity, the world would disappear like a candle flame in a high wind. Here a comparison of Sigmund Freud's view of theistic belief with Wilson's view of theistic belief.  Freud claims that theistic belief is illusion. This doesn't mean that theistic belief is false (although Freud thinks it is false); what it means is that theistic belief is produced by a cognitive process (wishful thinking) that is not 'reality oriented'; its purpose is not the production of true belief, but (in this case) a belief that enables the believer to avoid the depression and apathy that would set in if he saw clearly the miserably appalling condition in which we human beings actually find ourselves. Wilson's view is like Freud's, in that he too proposes that theistic belief is produced by cognitive faculties that are not reality oriented. Whereas Freud takes a dim view of theistic belief, Wilson is much more appreciative: In the first place, much religious belief is not detached from reality …. Rather, it is intimately connected to reality by motivating behaviors that are adaptive in the real world – an awesome achievement when we appreciate the complexity that is required to become connected in this practical sense. … Adaptation is the gold standard against which rationality must be judged, along with all other forms of thought. Evolutionary biologists should be especially quick to grasp this point because they appreciate that the well-adapted mind is ultimately an organ of survival and reproduction. Although Wilson has kind words for religion, his claim that religious belief is not aimed at the truth is incompatible with theistic religious belief. According to Christianity, for example, faith including belief in the essentials of the Christian faith is a divine gift; and the process producing it in the believer is indeed aimed at the truth and has as its function the production of true belief. So there is a conflict between science and religion. Although science has many of religion's virtues, it has none of its vices. Science is based upon verifiable evidence. Religious faith not only lacks evidence, its independence from evidence is its pride and joy, shouted from the rooftops.
_
To be fair to religions, I must state that we should not forget circumstances at the time of origin of religions. One example is sufficient. Imagine what the circumstances were 1500 years ago in Arabic peninsula. There was no electricity, shortage of fresh water, no communication, no automobiles, no healthcare etc. There was anarchy, heat and poverty. If a man sees an attractive woman alone, he would kidnap her and rape her. Women were sold in market as slaves. Killing was common. During such circumstances, Prophet Muhammad established Islam. Women were told to wear cloths covering their bodies so that their chastity is protected. People were told to pray five times in a day to make them orderly and civilized. Under disguise of God's words, rule of law was established right from family matters to criminal matters so the people can live a better life. The same is true about other religions. In fact, Prophet Muhammad and Lord Krishna were not only religious leaders but also political leaders, proving the fact that religion and politics are two sides of the same coin. So religions have worked to the benefit of humanity in the absence of science and governmental rule of law. Today, we live in a democratic world with rule of law enacted by constitution & parliament, and science on our side and then criticize religion that is patently unfair and inappropriate. On the other hand, all religious clergy must understand that in the modern world of science, democracy and rule of law; the need for religion is much less than before and one can not live on the glory of past. Today, if you force a woman to cover her entire body to protect her chastity, it would appear barbaric because we have evolved better ways to protect her chastity right from criminal laws to cultured behavior to rape resistance tactics to chastity belts. Today, if you cut the hands off a thief to prevent future theft, it would appear barbaric because we have evolved better ways to prevent theft right from tightened security to punishment by court of law. Today, if you take up arms against your cousins & uncles for a land dispute, it would appear barbaric because we have evolved better ways to settle land dispute and administer justice rather than violence. In my article on 'Islam & mathematics', I have proved mathematically that one of the five pillars of Islam, namely performing Hajj, can not be applied in practice to all Muslims and corollary to this logic is that all religions must evolve with time to suit the needs of people.
_
DISCUSSION:
_
Reason and faith:
Rationality is belief based on reason or evidence. Faith is belief in inspiration, revelation, or authority. The word faith generally refers to a belief that is held with lack of, in spite of or against reason & evidence. Rationalism holds that truth should be determined by reason and factual analysis, rather than faith, dogma, tradition or religious teaching. However the Roman Catholic Church believes that faith without reason leads to superstition, while reason without faith leads to nihilism and relativism; and therefore faith and reason can and must work together. In fact, most religions believe that faith is not only the basis of underlying rationality but also complementing rationality, by providing answers to questions that would otherwise be unanswerable. However, many stories told in most holy books lack rationality, evidence and reason. So one must choose between accepting the story on faith and rejecting reason, or rejecting the story by reason and thus rejecting faith. Now, there is a very thin line of demarcation between rejecting a faith and blasphemy. Blasphemy may lead to violence and death of innocents whose only fault was to disagree with the faith. So people are coerced to support faith out of fear to save their lives rather than pleasure of divine experience.
_
Assumptions:
The atheists and agnostics assert that religious beliefs are unreasonable because religion requires an individual to make many more assumptions regarding causes in the natural world than atheistic & naturalistic explanations require. For instance, most religious beliefs require the believer to assume that an invisible God created the universe, is concerned with our moral behavior for some reason, yet does not reveal himself, and will judge us after death for decisions we made in relative ignorance, sending us to either an assumed Heaven or an assumed Hell. Atheists conclude that such belief requires a myriad of assumptions as compared to naturalistic explanations, and that the religious beliefs are therefore less reasonable than naturalistic ones. Anything that is based merely on assumptions is unlikely to be a fact and the more assumptions you make, the more likely you are dealing with fiction. In my article on 'The Death', I have scientifically proved that the soul does not exist and there is no afterlife. In fact, concept of soul is an assumption which is now proved to be false. So basically various religions are misleading people when they talk about existence of soul, immortality of soul and life after death.
_
Science is brilliant at questions that start "how", but religion is the only approach to questions that start "why". Throughout history, human beings have asked those difficult "why" questions. I'm dubious about those "why" questions: why are we here? Why do we have a sense of right and wrong? Either they make no sense or they can be recast as the kind of "how" questions that science answers so well. Brain scanning has indeed shown particular bits of brain lighting up with activity when people pray, look at pictures of the Virgin Mary or recollect intense religious experiences. The traits & circuits required for religiosity in human brain include some degree of intelligence, a capacity for symbolic communication, a sense of social norms, and realization of "self" and a concept of continuity. There is general agreement among cognitive scientists that religion is an outgrowth of brain architecture that evolved early in human history. Human beings are supremely social animals. We recognize people and judge their feelings and intentions from their expressions and actions. Our thoughts about ourselves, and the words we use to describe those thoughts, are infused with wishes and wants. We feel that we are the helmsmen of our actions, free to choose, even to sin. But increasingly, those who study the human brain see our experiences, even of our own intentions, as being an illusory commentary on what our brains have already decided to do. Perhaps we humans come with a false model of ourselves, which works well as a means of predicting the behavior of other people – a belief that actions are the result of conscious intentions. Then could the pervasive human belief in supernatural forces and spiritual agents, controlling the physical world, and influencing our moral judgments, be an extension of that false logic, a misconception no more significant than a visual illusion? Are we simply victims of confirmation bias in our mind about our religion?  When we understand how our brains generate religious ideas, and what the Darwinian adaptive value of such brain processes is, what will be left for religion?
_
Even though religion is a collection of behavior based on beliefs, there is no reason to assume that all religious behavior evolved together at the same time in response to a single shift in the environment. What science needs to discover is how and why religion came into existence as a human behavior. Is religion an exclusively human behavior? Religion has some particularly human characteristic like the unique human ability to communicate with language. Religion, as we know it, needs language, but that does not mean that it has freed itself from pre-human behavior found among primates, other mammals, and even reptiles. Religion has rituals and non-human animals have rituals. Birds have rituals, reptiles have rituals, and they communicate symbolically with other members of their species. They just do not use the same linguistic structures that humans use. So scientifically speaking, even birds and animals do possess religious behavior notwithstanding the fact that they may not believe in some supernatural power or may even look at humans as supernatural power and follow humans. That is why we see plenty of animals like goat, dog, cat, cow and birds loitering around places of worship but none of them ever show any sign of reverence or attachment towards any deity or holy text or holy place. One of the areas in which humans distinguish themselves from other animals is in the awareness of their mortality and it is this awareness which makes humans helpless about their own existence which coerces them to look for something supernatural and therefore humans seek religion for solace.
_
Mirror neurons and religion:
The discovery of mirror neurons has been hailed as the greatest since the discovery of DNA. Mirror neurons are neurons in the brain that fire when another person is observed doing a certain action. The neurons fire in imitation of the action being observed, causing the same muscles to act minutely in the observer as are acting grossly in the person actually performing the action. It could be the basis of empathy, imitation learning, language evolution, mind reading, social understanding, culture and religiosity. Briefly stated, mirror neurons in primates fire not only when we do something, but also when we watch other do the same actions. This way we can understand the body language of someone. When we are in pain, e.g. we bleed for a cut, we know how it feels. Later when we see someone bleeding from a cut, we understand his or her pain, thus forming the basis of empathy. Of course the pain that we feel, and the pain that someone feels may not be the same as pain is still subjective. The human brain has multiple mirror neuron systems that specialize in carrying out and understanding not just the actions of others but their intentions, the social meaning of their behavior and their emotions. Everyday experiences are also being viewed in a new light. Mirror neurons reveal how children learn; why people respond to certain types of sports, dance, music and art; why watching media violence may be harmful and why many men like pornography. Found in several areas of the brain – including the premotor cortex, the posterior parietal lobe, the superior temporal sulcus and the insula – they fire in response to chains of actions linked to intentions. Studies show that some mirror neurons fire when a person reaches for a glass or watches someone else reach for a glass; others fire when the person puts the glass down and still others fire when the person reaches for a toothbrush and so on. When you see me pull my arm back, as if to throw the ball, you also have in your brain a copy of what I am doing and it helps you understand my goal. Because of mirror neurons, you can read my intentions. You know what I am going to do next. Mirror neurons seem to analyze scenes and also read minds. Mirror neurons provide a powerful biological foundation for the evolution of culture by absorbing culture directly, with each generation teaching the next by social sharing, imitation and observation. Humans are exquisitely social creatures and their survival depends on understanding the actions, intentions and emotions of others. Mirror neurons allow us to grasp the minds of others not through conceptual reasoning but through direct simulation. By feeling, by copying and not by thinking. Cognitive scientists think that the ability to recognize and vicariously experience what another individual is undergoing was a key step forward in the evolution of social behavior, and ultimately, morality. Since religiosity is basically a type of complex social behavior, stimulation of mirror neurons is the basis for development of religiosity and repeated stimulation of mirror neurons since childhood by religious inputs leads to strengthening of prefrontal lobes in humans. So one of the things that religion does when it's working properly is to strengthen the prefrontal lobes in human brain. All those practices that the religious people tell their adherents to do – like prayer, ritual, abstaining from alcohol, controlling your impulses – strengthen the ability of frontal lobes to control primitive impulses and it is this control of primitive impulses that lead to kind & sober social behavior. However, in the absence of faith in any deity, if you've got a cultural system that produces people who are reliable, who cooperate, who are relatively honest & trustworthy, who can control their impulses, who are good parents, who abstain from ingesting addictive substances; and if such a cultural system does that on a consistent basis over the centuries, it would do the same thing as religion without adhering to prayers & rituals and without faith in any deity. In other words, if we can enhance the ability of frontal lobes in our brains to control primitive instincts by training ourselves since childhood, we can live a very civilized and decent life no matter whether we believe in religion or not. This scientifically explains why some highly religious people are uncultured and why some highly cultured people are nonreligious.
_
From kindergarten to university, Saudi Arabia's state education system has barely entered the modern age and focused on religious and Arabic studies. High school literature, history and even science text books regularly quote Quran verses. No wonder, Saudis believe that all non-Muslims will go to hell after death. No wonder, Osama bin laden and terrorists of 9/11 attack came from Saudi Arabia. The mirror neurons of Saudi brains have been copying holy Quran since childhood and cannot think anything beyond it. Since holy Quran does contain few phrases promoting violence against unbelievers, these mirror neurons of Saudi brains inadvertently copy it and so religious extremism is cultivated. Had Saudi brains been exposed to other religions and taught religious tolerance, Islamic extremism would not be cultivated in Saudi citizens. The same logic applies to various madrasa in Pakistan & Afghanistan where seeds of extremisms are cultivated in the mirror neurons of children. So it can be explained scientifically why religious extremism originated in Saudi Arabia, Pakistan and Taliban controlled Afghanistan. No wonder, before 9/11 attack on America, Taliban government in Afghanistan was supported by Pakistan and Saudi Arabia at the level of United Nations. This is how mirror neurons work in humans.
_
Genes and religion:
Can a complex behavior really be coded into the genes? Look at a spider's web and see the truth. Look at a bird's nest and see the truth. How do flies and bugs know how to do such thing? The answer is that it is coded into the DNA. Some people are DNA coded for social cooperation. While others are DNA coded for egoism and antisocial behavior including criminality. The myth of learning and conditioning can be crushed by asking few questions. Why some people that have had a hell and grown up in worst thinkable conditions are nice and friendly people? While others that were born with a silver spoon in their mouth, and have had the best thinkable life conditions & education still became crooks and bad people? The answer is because of different DNA. Also, there is substantial evidence to show that criminality is inherited. Nonetheless, complex social behavior revealed to the world is due to combination of genetic component and environmental factors. Religiosity is also a type of complex social behavior. In my article on 'Genetically Modified', I have proved that every DNA in every living organism has a consciousness & functions as a biological internet and the latest scientific research directly or indirectly tries to explain phenomena such as clairvoyance and intuition. Since mirror neurons are also living cells with DNA functioning as biological internet, genetically coded information is transmitted out as biophotons to environment and vice versa. It is this biophoton communication between the DNA and the environment which eventually determine how a human will behave in a complex social circumstance. Now, if some person is genetically coded for anti-social behavior and he is brought up in religious environment with extremer views, there are all chances that he will become a terrorist. On the other hand, another person who is also genetically coded for anti-social behavior but brought up in a secular environment with moderate views would not become a menace to a civilized society because his bad gene did not get suitable environment to express itself. So there is a convergence of genes (DNA) and environment (society) in making someone a good person or a bad person; no matter whether goodness and badness are relative terms vis-à-vis society. Going one step further, I would state that if you are genetically coded of evilness and you are conditioned to become deeply religious, you are likely to follow violence depicted in sacred texts; and if you are genetically coded of serenity and you are conditioned to become deeply religious, you are likely to follow kind & sober aspects of the same sacred texts. In other words, if you are genetically coded for evilness, then your mirror neurons will copy violence depicted in sacred texts ignoring serenity in the same text. It would mean that given a choice, genes select suitable environment for interaction to produce complex social behavior and this hypothesis is more logical than genes interacting with environment independent of suitability. So at the end of the day, everything about your complex social behavior in a society right from your culture to your religion is determined by your DNA, mirror neurons in your brain and environment in which you were brought up. There is no evidence to link your religious behavior to supernatural power. So religiosity in humans is not a gift of God even if God exists.
_
The question that perplexed my mind is that if God indeed exists and God knows everything, has the power to do anything, and is present where He wishes, then, why hundreds of women are raped everyday in the world? Why thousands of children are dying due to hunger everyday? Why God can not stop these evil acts? And if God has surrogated duty to eliminate evil to humans, then, why humans should worship God?  Can a woman who worships God everyday say that her chastity is in safe hands and it will never be violated? Can a priest who performs religious duty everyday in the holy place say that he will never be murdered? Does God have a religion? There are no answers to these questions. This is the limit of religiosity. In fact, as religion became more of a personal matter in modern culture, discussions of society found a new focus on scientific meaning, and religious attitudes are increasingly seen as irrelevant for the needs of the modern world. In my article on 'Matchmaking', I have proved that love and fear are mutually exclusive. Most people are afraid of divine punishment if they do not follow religion as per the diktats of sacred texts. This is illogical. If you love God then you should not be afraid of Him; and if you are afraid of God then you do not love Him. So this is a catch 22 situation for religion.
_
In my article on 'The Intelligence', I have shown that poor nations have lower average national IQ. Also, people with lower IQ are more religious because religion provides answer to many questions in their minds. Also, poverty itself leads to lower intelligence & higher fertility. Also, various studies have shown that economic inequalities are proportional to religiosity. So poverty, economic inequality, fertility, religiosity and intelligence are all correlated. The lesser is the average intelligence of a given population, greater will be poverty, fertility, economic inequality and religiosity.
_
THE MORAL OF THE STORY:
1)  Basically all religions were created in different parts of the world under different circumstances to bring order among disordered & disorganized people so that people can lead a better life.
_
2)  Religion and politics are the two sided of the same coin with 'religious diktats' and 'political will' influence people's life.
_
3)  People are people but when they become Christians, Jews, Hindus, Muslims, Sikhs, Jains, Parsees and Buddhists; they divide and therefore the greatest drawback of religion is the division of humanity.
_
4)  Inter-faith dialogue and educating religious inclusiveness in schools can help reduce conflict of religions.
_
5)   Religions have consistently worked against women's right and women's empowerment.
_
6)  It is the DNA and the mirror neurons in human brain that will determine the complex social behavior of an individual in society depending on the genetic code and the experiences of mirror neurons since childhood. Religiosity, culture, empathy and communication through language are functions of these mirror neurons under genetic influence. There is no scientific evidence to link religiosity to any supernatural power or deity.
_
7)  All sacred texts were written & created by humans and only humans.
_
8)  The concept of God in human mind arose out of ignorance and fear. There is no scientific evidence yet for existence of God as defined by various religions, no matter whether we know answer to question 'who created this universe'. Ignorance can not be used as an excuse for belief in supernatural power. Fear of divine punishment & blasphemy is nothing but coercion to follow a religious path.
_
9)  If you love God then do not be afraid of Him and if you are afraid of God then you do not love Him; no matter whether God exists or does not exist.
_
Dr. Rajiv Desai. MD.
February 13, 2011
_
Postscript:
I do not know what my religion is; whether it is Christian by birth or Muslim by nature or Hindu by nurture.
Anyway, I am happy to be an ordinary human being.
THE SCIENCE